If you create the best website with the best content, you need SEO so customers can find you
SEO | Search Engine Optimization
SEO is stands for Search Engine Optimization and is undoubtedly the most critical part of any website if you want to be noticed on the google search.  Every company may have their secret techniques but ultimately the fate of the search is up to Google and its monopoly on the search engine world.  They say that their algorithm uses 200 different unique signals,  all happening in a millisecond while the end user performs the search.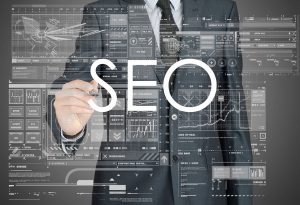 The categories for Search Engine Optimization can be split into two categories:
Techniques that search engines recommend as part of good design are called white-hat SEO. They are considered safe and produce long term results.
Black-hat SEO on the other hand, uses techniques that are disapproved of by the search engines. Websites that employ these techniques can suffer a ranking penalty; worst case scenario being complete removal from the index.
We specialize in white-hat SEO techniques that allow our clients reach page 1 on Google without keyword stuffing.
In order to show you the most relevant results from their index, search engines need to use a ranking system. There are several factors that are taken into consideration and understanding these factors is essential for your SEO success.
The days of tricking the algorithm and black hat SEO are over – it has come down to relevant content and strategic partnerships
Search Engine Ranking Factors*
Relevancy is determined by over 200 factors. It's impossible to discuss them all, partially because it would take too much time.  However, research has identified several elements that are important:
Links
When we talk about links, we talk about PageRank; the link analysis algorithm used by Google.
This algorithm takes quantities of links into account – every link to a website is seen as a vote for that website. The more links you get, the higher you will rank.
One thing you should keep in mind is that this is not a democratic system. Not every link has the same weight. Links from authoritative websites have more influence than links from less popular websites.
Keywords
The keyword distribution on your page is also important. Google checks how often the search query can be found on your page. If it appears in your domain, url, title, header tags, content… the page will be considered more relevant.
Site Age
Old is gold. Google considers older domains/websites to be more authoritative than brand new websites.
Freshness
Frequently updating your website is a good idea. Add new pages or update old ones. Fresh pages are a sign that the website is not dead.
Other Factors
It's impossible to discuss all the ranking factors. There are others, such as page speed, site speed, AuthorRank, site structure… but these are some of the most important.
*Source: tuts, Kevin Vertommen