How-to Guide to Launching NARI's New Logo
The new logo for the National Association of the Remodeling Industry (NARI) debuted last week. In the coming months, members will be inundated with logo update recommendations and brand usage guidelines. But for the average member, the new logo release will be a tempered phase-out/phase-in process. In this post, we'll explore the process for launching a new logo and some of the elements behind the new design. Hopefully it will help members through the transition.
MOTIVATION FOR THE NEW LOGO
After more than 33 years of driving the NARI brand nationally, the old logo had limited appeal and lacked a "carry-all" slogan to drive the organization's appeal to the public. The updated logo includes a cleaner sans serif font and can be manipulated across multiple color schemes as presented in the brand manual. NARI now has a tagline to rally around in "Remodeling Done Right." The slogan will no doubt become the focus of the new logo release campaign as it is the biggest overall brand change.
CO-BRANDING UPDATES
The biggest challenges in updating materials will be felt by the local chapters. As a general rule, most NARI members have a limited co-brand presence with NARI. Many of us have included our affiliation on our websites, brochures, and vehicles, but the previous logo was not completely blended with our brand. We will all update a few items immediately, especially digitally, but most co-branded items will be updated upon replacement. There's no need for immediate panic or major unplanned spending, but we are recommending a conscious review of your co-branded exposure. We've created a Complete Rebranding Checklist to help in your brand review, but there are a few items that will likely apply to all members. Here's list of the most common items requiring updates:
Website Graphics
Email Signatures
Trade Show Displays
Showroom Window Stickers
Business Cards
Vehicle Logos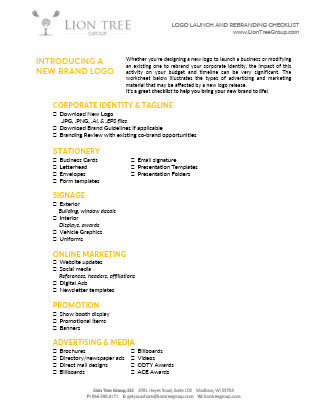 Here is our Complete Rebranding Checklist (PDF)
DOWNLOADING THE NEW LOGO ASSETS
The new digital logo assets are available right now on the NARI.org website. It is currently behind a member wall (login credentials are required), but hopefully it will become available at a friendly URL where printers and designers can access the assets directly.
The biggest challenge we've seen with immediate implementation of the new NARI logo has been the vertical nature of the complete logo. A few updated sites have seen stretched header or footer space because of the vertical ratio of the new logo and the verbiage below the logo. We recommend the horizontal logo as the go-to for website and letterhead usage for this very reason.
To download the graphics, go to www.NARI.org and login. In the members area click on Pro Resources -> Marketing Tools -> NARI Logos. You'll be able to see general NARI logos, NARI Member logos, and the NARI Member Logo Brand Guidelines. NARI will also provide a chapter-specific logo upon request. There are various file formats available in the download packages. Here's a list of the different formats and what they should be used for.
.PNG – Best used for isolated "floating" effect. Websites and email.
.JPG – Useful for some web applications and in-housing printing.
.EPS – A must for printers. Print as large are you'd like with these vector files. Ideal for trucks, billboards, and general printing.
SUPPLEMENTAL LOGOS
A few items missing from the new logo roll-out are the supplemental logos including NARI certifications and award programs (COTY and ACE). These will likely be released in the near future as the 2016 CotY Awards are just around the corner.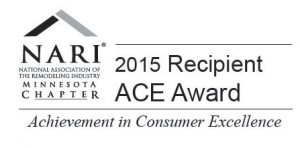 2015 ACE Award logo

Past COTY Award logo

Previous Certification logo
COMPLETING THE TRANSITION
As stated previously, the new logo release shouldn't require a major brand overhaul for most NARI members or association affiliates. However, if you heavily co-brand with the existing NARI logo, this week's announcement will come as an untimely and perhaps costly surprise. It also serves as a reminder that we occasionally need to evaluate our own brand identity for effectiveness and freshness while considering any co-branding opportunities.
ABOUT THE AUTHOR
Ben Lindberg, CR is a partner at the Lion Tree Group, a digital marketing agency, in Madison, WI. His expertise is in multi-platform brand messaging with a focus on inspired homeowner engagement. As an industry insider, he has walked the walk and developed a winning business campaign strategy from experience with one of Wisconsin's largest remodeling companies. His agency's core competencies include digital website design, transitional market campaigns, and branding updates. He regularly blogs at his company's blog: The Bark and Roar.