Angie's List Eliminates Monthly Membership Fee
In a move sure to make Houzz and Porch a little nervous, Angie's List announced this week that they will be moving to a free membership model.
What is Angie's List?
Already in more than 100 markets nationwide, Angie's List has positioned itself as the most trusted ratings and reviews site on the internet. By using a paywall membership fee for use, it built a review empire for the home improvement on users with a vested interest. Users (or members as they are called) currently pay a monthly membership fee of around $3 to belong to the club and in return, they share their experience with contractors and service providers with neighbors, friends and co-workers. Over time the revenue model for Angie's List has moved away from reliance on members and moved to an advertiser/manufacturer revenue stream. Advertisers are now contributing 80% of revenue and that will continue to grow.
Despite the revenue shift to advertisers, Angie's List hasn't conveyed the same experience and feeling to contractors. Many contractors have been left holding the bag without the promised results from significant investments. The path in the next few months will likely give a long-term outlook on the overall trajectory of the company. If the new model can win engaging homeowners, contractors may flock back, but I expect it to be quite a battle to overcome the sour taste of over-promise.
Angie's List U.S. Market Map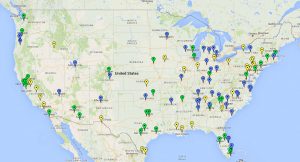 Why is Angie's List Useful?
Long before the start-up scene noticed the home improvement industry, Angie's List was started organically to help neighbors in Columbus, OH compare notes on contractors. The nuts and bolts without the fluff business model made a lot of sense to consumers and has grown incrementally to more than 3.2 million paying members. Early on, the founders focused on transparency and open dialogue between homeowners and contractors. There is an encouragement of bi-directional communication and ratings that have become common grades for comparing different contractors. Angie's List has created a forum for both contractor-homeowner and homeowner-homeowner conversations. One of my favorite features is called Circle of Friends and Neighbors. You can essentially share your experience with your closest neighbors and friends that are also on Angie's List. Word of mouth is the hallmark of a great referral and they've created a trusted conduit for referrals.
Are Competitors A Threat?
The partnership with James Hardie sounds like it will enable Angie's List to remove membership fees. This outside investment isn't surprising considering that we've seen a tremendous amount of investment in the contractor review and recommendation arena in the past 3 years. All of the new players are backed by a major player or venture capital firm and looking for quick profit. As an industry insider, I would say the overall feel of these sites is that they don't have the authentic, grassroots feel of believability that Angie's List has developed. It is a little funny that they all have the same origin story about struggling to find a competent and reliable contractor. Let's take a look at a few of them:
Houzz – Developed from the "board" layout of Pinterest, Houzz initially focused on beauty and showcasing projects. They have always been a free service to consumers, but haven't been able to crawl out of the beauty shot veil. Houzz is supported by Silicon Valley insider Sequoia Capital.
Porch – Seeing the need for data-driven contractor decisions, Porch has pulled in property tax, building permit and Better Business Bureau data to try to build a history for each home in the U.S. The idea is to provide homeowners with a project history while also providing suggestions and showcasing projects. They are funded heavily by Lowe's.
Amazon – A new player in the game, Amazon is seizing an opportunity to get into services. They are trying to provide a fixed price model to a very fluid price industry. Amazon is using its ratings expertise to try to influence, but an extremely limited market roll-out is likely to lead to an early demise.
Red Beacon – Not wanting to get lapped by Lowe's, Home Depot purchased Red Beacon. Red Beacon is a do-it-for-me service for home improvement projects. The idea is that you enter information for a project you are considering and they will marry you with the "perfect" contractor for your project.
All of these competitors have tried to unseat Angie's List with a slightly different take on the reviews and ratings website, but Angie's List continues to be the most genuine connection for actual referrals. They still have a "bare bones" feel to the site which isn't nearly as beautiful as Houzz or Porch, but seems to get the job done effectively for its users.
What's Next for Angie's List?
It will be interesting to see if Angie's List pursues a more beautiful, design-centric model or continues on with its current UI. Another possible change resulting from the fee removal is that the membership demographic could change resulting in less exclusivity of the membership – some members want their favorite contractors to themselves and don't want the club to grow. While I think some membership dilution is inevitable, if Angie's List continues to focus on grassroots growth and hyper-local relationships, it will be successful. At the very least, contractors should be paying attention to these changes to try to stay ahead of the curve. Google Page 1 organic results placement will continue to be the most important gauge for online success, but it is ignorant to think there aren't incredible incremental opportunities in some of these review sites.
About the Author
Ben Lindberg, CR is a partner in Lion Tree Group, a marketing agency in Madison, WI. His expertise is in multi-platform brand messaging with a focus on inspiring homeowners. As an industry insider, he has walked the walk and developed a winning strategy from experience with one of Wisconsin's largest remodeling companies. His agency specializes in digital design and branding face lifts. He regularly blogs on his company's blog: The Bark and Roar.