The End of Angie's List: Losing Trust in Online Reviews
The End of Angie's List is Here
Previously I wrote about the elimination of membership fees for Angie's List and the potential consequences for Angie's List as it made the transition to service providers as their only revenue source. But since March a lot has changed. What once was the most dependable, community-based experience sharing platform has moved on from its roots and morphed into a pay-to-play brag board for contractors. In other words, the end of Angie's List is upon us.
It isn't that I'm salty about the changes. Every company must re-invent itself in time and Angie's List was facing relevancy challenges while experimenting with revenue sources. Eventually all things must adapt. We'll likely see a similar long-term positioning for similar sites like Craigslist.
Changes in Search Listings
Transparency issues abound in the new platform released by Angie's List. In mid-August, Angie's List search results were essentially hijacked by service-providers by paring back non-paying provider listings and implying that non-paying providers would not be shown any preference or positive exposure in spite of longevity with Angie's List or existing review status. A provider that might have won the Angie's List Super Service Award for 5 years running might not even show that it has actual reviews unless they pay to show up in preferred results. Essentially this is akin to Google listing paid ads for the top spots in search results followed by 10 organic results with nothing but a page title. It would look something like this in case you were wondering.
Here's an example of search results since the changes were made in August – notice anything strange about it?: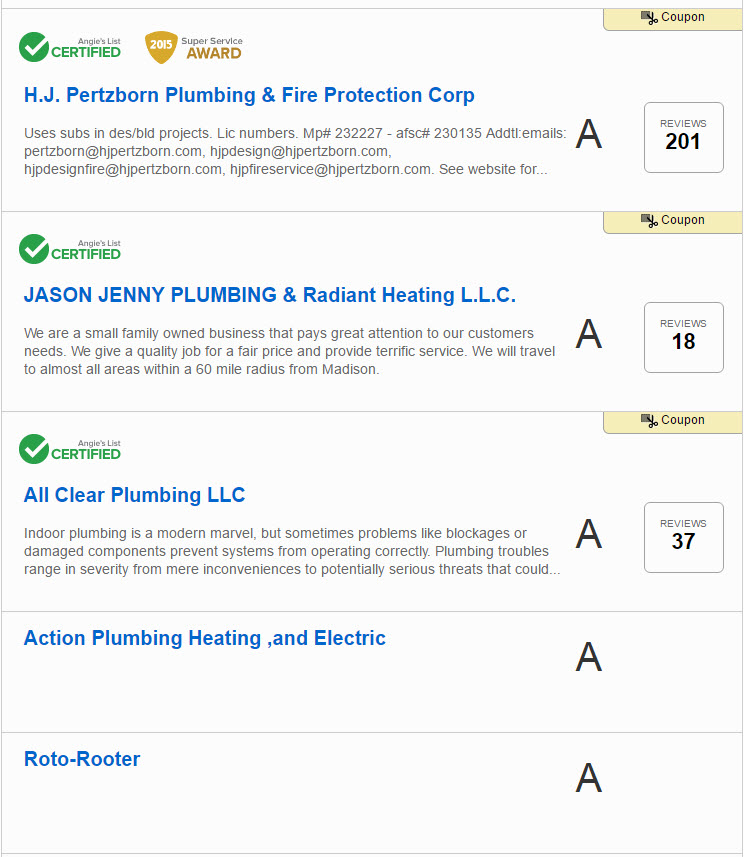 Lost Opportunities
After a series of high profile lawsuits surrounding review washing and access to negative reviews, Angie's List replaced their CEO and moved away from their homeowner-centric model and embraced the big money of providers. The big misstep here is that by alienating homeowners, Angie's List has essentially voided its relationship with its consumers. A puzzling move for any business.
Angie's List members (homeowners) used the List as a resource for sharing experiences and trusted the reviews of others. Companies with better grades were shown preference in search results. It felt legitimate. And even though service provider income has always been the biggest source of income, its the fundamental lack of transparency that exists now that has killed the trust. What once was a good thing going is now just a memory as the end of Angie's List is coming.
Transition from a Support to Sales Organization
And the biggest change in Angie's List isn't even in the drop of the membership fee for homeowners. It is the fact that the company has cast aside its original mission statement and embraced a revenue model dependent on sales methodology.
The original Angie's List mission statement was: Our mission is to help the best consumers find the best service providers and promote happy transactions. Simple and focused on consumers finding something, not service providers finding it. Positive experiences and transparency were paramount to solicitation and ambiguous service provider pricing.
Every company used to have an account manager assigned to it that would be responsible for informing contractors of advertising and listing options. They were the go-to source for everything. If we had issues responding to client reviews, they would help. If we needed service award logos, we'd contact our account manager. The relationship is now full of gatekeepers and relentless pre-sale set-up telemarketers that pass you along to start "negotiations" for your Angie's List presence.
There are many accounts online pointing to these deceptive practices. I say deceptive because there is complete lack of transparency for Angie's List Service Provider pricing. I've heard some contractors getting listed for 1/10 of an initial quote. Basically, if you're willing to commit any money at all, they will take it. They will sell high and hard, but then they will succumb to meet your price. The trade-off is that it is no loss to them. As a sponsored service provider, they don't guarantee search positioning, so they can prioritize however they choose. If you are only spending $50/month, they will list you in the paid search area, but only show you top billing once in a blue moon.
Hope on the Horizon
The end of Angie's List will result in one of two scenarios playing out. Either Angie's List investors will see the broken business model and abandon the company or someone else will spin off a 2nd generation model by restoring trust in homeowners. There's no doubt the end of Angie's List has been a big pill to swallow for many homeowners. When the game has played out, I expect to see a Harvard Business School case about it.
About the Author
Ben Lindberg, CR is a partner in Lion Tree Group, a marketing agency in Madison, WI. His expertise is in multi-platform brand messaging with a focus on inspiring homeowners. As an industry insider, he has walked the walk and developed a winning strategy from experience with one of Wisconsin's largest remodeling companies. His agency specializes in digital design and branding face lifts. He regularly blogs on his company's blog: The Bark and Roar.