Facebook and Hashtag Guidelines for Rio 2016 from USOC
In the run up to this week's opening ceremony for the 2016 Rio Olympics the United States Olympic Committee (USOC) is making huge waves with warnings about trademark infringement for commercial entities posting with specific hashtags and tags. To be fair, this isn't exactly news because the USOC has been gently dropping hints for months, but it will come as a surprise to many hoping to help promote affiliations and support our nation's athletes. We take a look at the hashtag guidelines and make some recommendations on how to be legit.
What posts or hashtags are banned by the USOC?
It's pretty clear that any use of the Team USA logo, Rio 2016 logo, or any logo related to the classic Olympic Games 5-ring logo are not allowed. This has been highlighted by the recent controversy between running apparel retailer Osielle and the USOC over a congratulatory post supporting their sponsored athlete, Kate Grace, who qualified for the Games in the 800m track event. Osielle was threatened and ultimately revised their post to comply. It's an interesting story in its own right.
Rule #40 and #rule40 have been getting a lot of press lately. Rule #40 expressly states a specific blackout period surrounding the games to protect the Olympic sponsors from cross-competition. The blackout period this year runs from July 27 through August 24.
The USOC has many trademarks associated with the Olympic Games including:
 Olympic
Olympian
Team USA
Future Olympian
Go for the Gold
Going for the Gold
Let the Games Begin
Paralympic
Olympiad
Olympic Games
Road to Rio
Rio 2016
While many of these terms seem pretty innocuous, the threat is real. You can read more about it on the TeamUSA website.
The USOC's warning includes:
Commercial entities may not post about the Trials or Games on their corporate social media accounts. This restriction includes the use of USOC's trademarks in hashtags such as #Rio2016 or #TeamUSA.
As the Olympic Games have allowed more and more professional athletes to participate including beach volleyball, rugby, basketball, swimming, and golf this year, the line continues to blur between acceptable and unacceptable sponsorship intervention. As Under Armour, Nike, and Adidas expand their athlete sponsorships, there is an ever-growing conflict between protecting the interests of Olympic-specific sponsors and everyday sponsors. It isn't too much of a stretch to think that Jordan Spieth (Under Armour) and Rory McIlroy (Nike) might have skipped this year's Games not because of the Zika virus fears, but because their sponsors didn't want them parading around in Adidas shirts.
Does trademark protection really extend to hashtags?
It isn't clear that hashtags are intellectual property. The clearest example to date is the 2010 example of Taco John's essentially ruining Tuesday henceforth as they sent cease and desist letters to anyone using #tacotuesday to promote their business. There have been several court cases that ended with mixed results, often due to the hashtag only being a loose representation of an actual trademark term.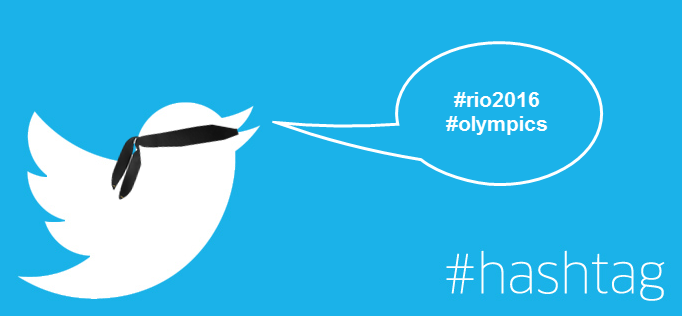 The U.S. Patent and Trademark Office (USPTO) has released hashtag guidelines for trademark protection that state:
• A mark comprising or including the hash symbol (#) or the term HASHTAG is registrable as a trademark or service mark only if it functions as an identifier of the source of the applicant's goods or services.
• A "hashtag" is a form of metadata comprised of a word or phrase prefixed with the symbol "#" often used in social-networking sites to identify or facilitate a search for a keyword or topic of interest.
• The addition of the term HASHTAG or a hash symbol (#) to an otherwise unregistrable mark typically cannot render it registrable.
• If a mark consists of the hash symbol or the term HASHTAG combined with wording that is merely descriptive or generic for the goods or services, the entire mark must be refused as merely descriptive or generic.
• When a mark containing the hash symbol or the term HASHTAG is unitary with other arbitrary or suggestive, the mark must still be evaluated to ensure that it functions as a source indicator for the goods or services.
It's important to know that you can't trademark a hashtag that was already a qualifying trademark phrase.
Interestingly, Instagram (the king of hashtag runs) has provided suggestions for businesses advertising on Instagram that include this phrase:
With 83% of Instagrammers enthusiastic about the 2016 events, take advantage by sharing creative that plays off the games.* Share content that reflects the events while aligning to your brand, products or services. Include a popular hashtag or two, like: #bomdia, #riodejaniero, #familia, #brasil, #rio and #felicidad.
This implies that Instagram isn't as likely as Facebook or Twitter to comply with requests from the USOC. After searching around, it isn't clear what Facebook will do yet. I expect to see requests from USOC respected by Facebook based on well-documented past experiences with posting copyrighted or trademarked material.
In spite of the cloudiness of whether or not it is an enforceable infringement, most people confronted with a C&D letter from the USOC should probably comply. If only because the ramifications of banning or a future lawsuit are a steep penalty for a very short term gain.
What about other copyrighted material?
One of the recommendations made is that re-posting or sharing posts from credible sources including Rio2016 and USOC and NBCSports will be allowed. However, re-branding guidelines must be followed and these entities will likely be crawling through posts looking for infringement. Facebook specifically has been overrun with copyright infringement claims as user video uploads skyrocketed in the past two years. Facebook, Instagram, and Twitter all have Intellectual Property Guidelines that can be useful in determining whether or not a post involves copyright protection.
What will companies do to workaround the USOC?
It is going to be an interesting couple weeks for advertisers and non-Olympic sponsors hoping to capitalize on the 2016 Rio Olympics. As the USOC will continue to block-out and enforce infringement, there are bound to be creative workarounds attempted. As stated earlier in this article, the running apparel company, Osielle, responded to a cease and desist letter by blurring the Olympic logo from a photo and editing the caption to read "Sporting Event in Brazil" instead of Rio Olympics.
A trending hashtag on Twitter is already #6102oiR or #2016Rio backwards.
We've seen people recreating the Olympic logo.
Nike altered a USA Men's Basketball team photo. to disguise non-Nike shoes from a few players.
Under Armour is skirting Rule #40 with this Michael Phelps commercial clearly showcasing the preparation for the games as the payoff for his performance. It is a fantastic commercial.
We think the most likely result of the early threats from the USOC will be creative phrasing. Here's a list of a few things we'll be watching for:
#goforsilver
#brazilsports
#teamamerica
#bigathleticevent
#letthediversionsbegin
#sewersports
#girlpower
#usbouncyball
#REOspeedbraggin
We are reminded of the 2016 Wisconsin Interscholastic Athletic Association ruling that attempted to limit chants by Wisconsin high school fans. Chants like "scoreboard", "sieve" and "season's over" would be subject to possible penalties enforced during the game. The fans worked around the ruling with some excellent creativity like "hairball" and "snoreboard".
There's no doubt about it, this is going to be a great Olympic Games to watch. The 2016 Olympics have been plagued with plenty of problems from Day 1. It's sure to be a wild two weeks.
About the Author
Ben Lindberg, CR is a partner in Lion Tree Group, a digital marketing agency in Madison, WI. His expertise is in multi-platform brand messaging with a focus on inspiring homeowners. As an industry insider, he has walked the walk and developed a winning business campaign strategy from experience with one of Wisconsin's largest remodeling companies. His agency specializes in digital design and branding updates. He regularly blogs at his company's blog: The Bark and Roar.