Why Is Facebook Search So Bad and Does It Matter?
Facebook has been clawing away Google advertising dollars for nearly a decade, but recent changes to Facebook's news feed have sparked year-over-year advertising revenue increases north of 50% for the past 3 quarters. This comes at a time when Google is expanding through acquisitions like Apogee, Famebit, and Kaggle, and growing ad revenue at a meager 10% annually.
So is Facebook trying to be the next Google?
Facebook's growing ad market share is signaling an alternative approach to Google's hardware and search exploits. Facebook is posturing to change the way we interact by downplaying the importance of organic search and replacing it with algorithm-generated factor-based ads. By focusing on display ads and news feed relevancy, is Facebook missing an important component? They don't seem to think so.
Enough speculation about Facebook's future, let's look at why Facebook Search Sucks.
There Are No Keyword Associations
Searches have to be an exact phrase or you'll never find what you're looking for. This happens for people, places, and posts. Here is an example of a search for "Madison Restaurants". It returns results for places, but you need to toggle results to see tagged restaurants or sort by location. There is no geolocation tool or recent posts from restaurants that might include offers or updates.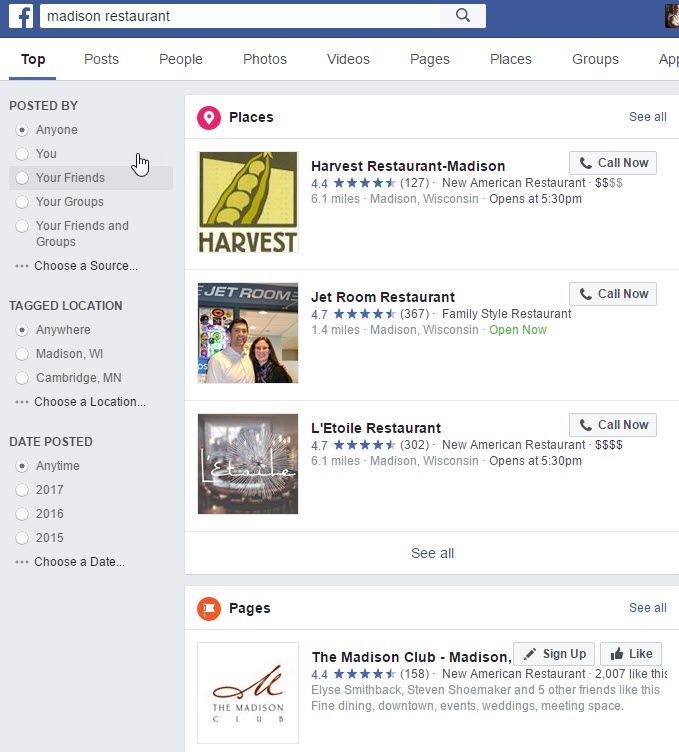 Missing "Did You Mean?" Correction
If you don't type in an exact phrase, the results don't even come close to helping correct you. I typed in Lion Tre Group and this is what I got.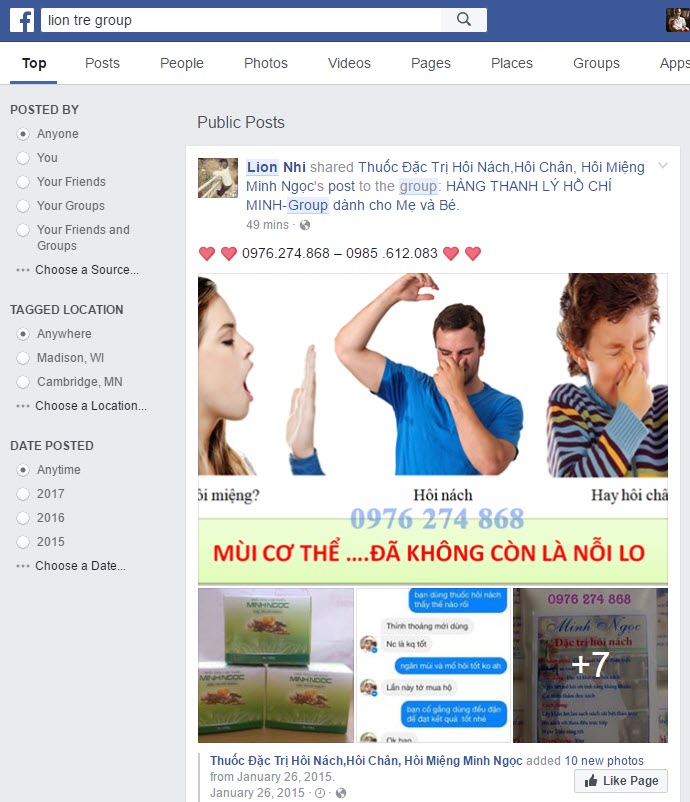 Facebook Search Priorities Are Place-Based, Not Post-Based
Results populate by Places, Pages, Places, then Posts from Friends and doesn't return the most relevant or most recent "Top" posts without significant scrolling. This can really affect exposure for events and hamper the ability to view posts from familiar sources when you are searching for recent updates. I was searching for a post from a friend about the Wingra Muskie Migration in Madison and another about a Morel Mushroom Hunt and after scrolling through numerous pages and places, I get to posts from friends, but they are all more than a year old. And when I toggle the search for this year only and posts from friends, the results require terms to be so specific, I can't find the post that I'd seen earlier.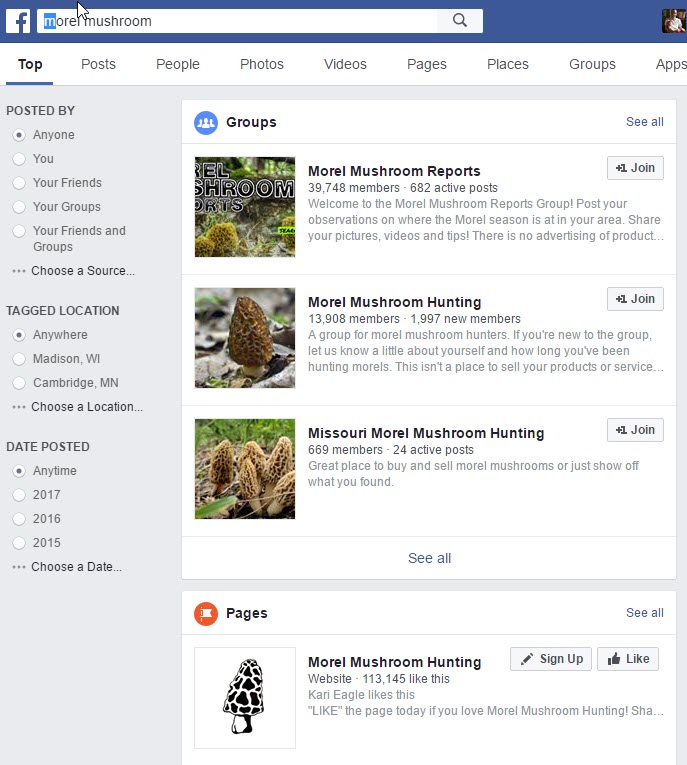 Hashtag Discovery and Tagging
Facebook has been slowly killing the hashtag since acquiring Instagram. Hashtag crowding (the use of popular tags by brands to increase influence) has become so common that power users have forced the protection of some hashtags and the overall influence of hashtags has diminished. Facebook search limits hashtag searches by limiting results to friends first then featured posts then public posts. Take a look at this hashtag for #united. Despite being the most popular tag on Facebook today, it's offering Groups and unrelated posts in the search results.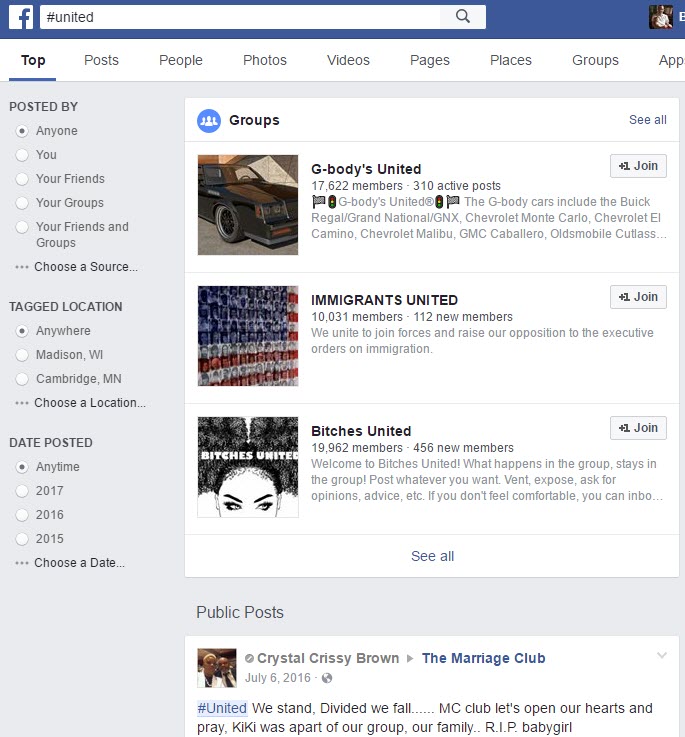 Facebook Ad Load Capacity
Clearly the search feature on Facebook is lacking relevant results. It's been bad for a long time and they clearly haven no desire to fix it. The increased ad load over the past year has forced Facebook to continue to channel through the news feed based on behavioral influences. Their long-term competitive advantage over Google has always been deep behavioral data which translates well to advertisers.
Additionally, the focus message coming from F8 was monetization. As ad capacity tapers, Facebook is looking to other channels for distribution of ads. We'll see the dynamic ad opportunities open up and include some advantages in the marketplace like interactive ads and canvas ads on multiple platforms.
Focus on Ads, Not Search
Facebook has always tried to be "not Google" and we are looking at a different method to same means. Follow the data path and you'll find the money. No one searches in Facebook because Facebook search is terrible. Therefore, there is no money in it. A typical Catch-22.
About the Author
Ben Lindberg, CR is a partner in Lion Tree Group, a digital marketing agency in Madison, WI. His expertise is in multi-platform brand messaging with a focus on inspiring consumers. His agency specializes in website design and comprehensive branding solutions. He regularly blogs at his company's digital news blog: The Bark and Roar.